Custom Glass Solutions for the Prefect look in Westlake Village, CA.
When you need something as delicate as shower doors, glass doors, or specialty glass installed, you should only trust the very best. At Nu-Star Glass and Mirror  we have been in business since 1976, serving Westlake Village, CA. and the greater Los Angeles  community.and Ventura County.  We started as a family owned business with the objective to serve the local community for all their glass , mirrors, doors, and window needs. Throughout the years, we have grown and developed, increasing our customers and improving our quality.
At Nu-Star Glass and Mirror, we are proud to serve many specialized communities, such as glass contractors, glaziers, designers, proud affiliation with law enforcement agencies.  We are a trusted source of high-quality craftsmanship, and have gained a reputation for the reliability our services provide. Our specialties are in glass design, fabrication, and installation of storefronts, partition walls, glass walls, shower/tub enclosures, windows and doors and wall mirrors. We pay very close attention to detail, so that you receive the best quality finished product possible.
FURNITURE & SPECIAL PROJECTS
At Nu-Star Glass and Mirror, we pride ourselves on having expertise on a variety of custom glass needs, which means we want to help you on your next specialty project too! For textured glass over art pieces or paneled displays, adding glass or mirrors to custom designed furniture, unconventional angled glass installations, and even more, Nu-Star Glass and Mirror is confident we have the skills and the design background to complete your special project exactly the way you envision it.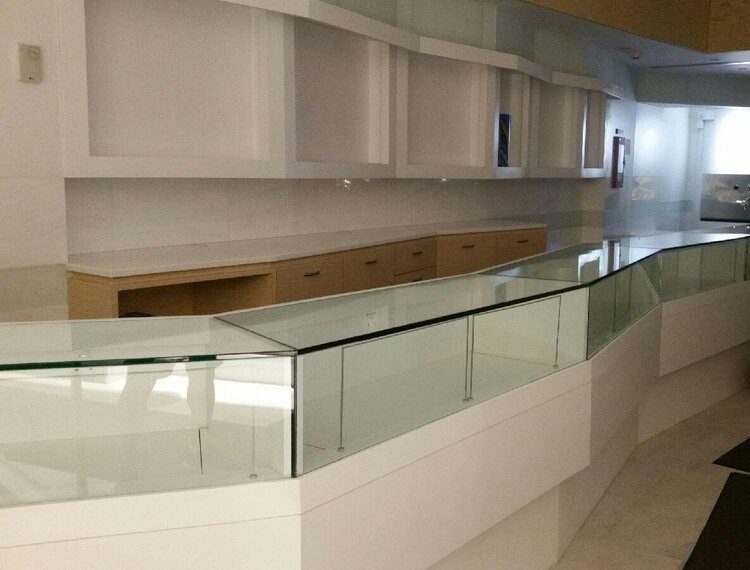 Custom Glass Jewelry Display Case
Perfect for Displaying Rings, Necklaces, Watches, or Other Products and Merchandise. Elegantly Showcase Your Most Valued Possessions with Nu-Star Glass and Mirror custom glass designs.      
How much does custom glass cost?
So in a nutshell, how much does custom cut glass cost typically? For common projects like single pane windows, picture frames, etc, the glass itself typically costs approximately $5-$6 per square foot. Generally speaking, the thicker the glass the higher the price.
 Can you attach shelves to a mirror?
Attaching
 a glass 
shelf to a mirror
 is no different. 
If
 the 
mirror
 was already attached to the wall, it 
should
 be removed so that the glass 
shelf
 may easily be attached. 
If
 the home improvement project is a complete redesigning of the bathroom and the 
mirror
 is not on the wall, then that reduces some of the work.
Tempered glass
 is used most often for shelves and 
table
 tops. Thickness: Glass comes in thicknesses of 3/16" to ½" with ¼" and 
3/8
" being the most popular thicknesses.